Sir Michael Fallon resignation: PM considers replacement
Theresa May is expected to name a new defence secretary after the resignation of Sir Michael Fallon on Wednesday.
He stood down saying his conduct had "fallen short" of standards, in the wake of allegations of inappropriate sexual behaviour.
BBC political editor Laura Kuenssberg said a "radical reshuffle" was not expected, but instead a "sideways move or single shuffle up".
Scottish Tory leader Ruth Davidson said the "tone of politics had changed".
In a speech after winning the Spectator's Parliamentarian of the Year award, she said it was time to "clear the stables" in light of recent allegations, but said there was a need for some "pretty big shovels" to do it with.
Sir Michael is the first politician to quit following recently revealed claims of serious sexual abuse in Parliament.
He told the BBC that what had been "acceptable 15, 10 years ago is clearly not acceptable now".
In his resignation letter, Sir Michael said a number of allegations that had surfaced about MPs, including himself, had been false, but added: "I accept that in the past I have fallen below the high standards that we require of the Armed Forces that I have the honour to represent."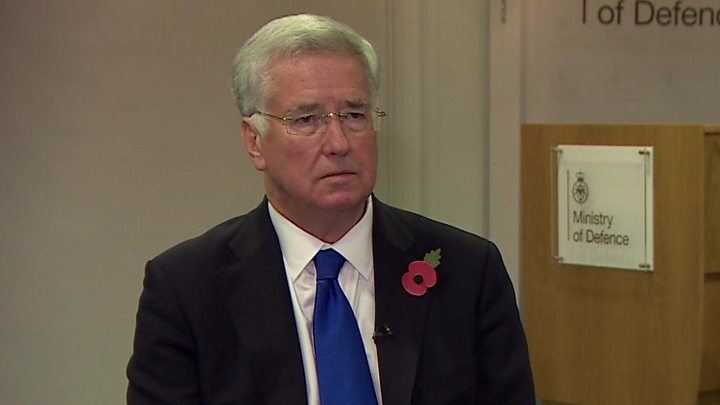 Sir Michael later told the BBC it "was right" for him to resign, adding: "Parliament now has to look at itself and the prime minister has made very clear that conduct needs to be improved and we need to protect the staff of Westminster against any particular allegations of harassment."
When asked if he thought he should apologise, Mr Fallon said: "I think we've all got to look back now at the past, there are always things you regret, you would have done differently."
Mrs May said she appreciated the "serious manner" in which Sir Michael had considered his Cabinet role and paid tribute to "a long and impressive ministerial career".
Laura Kuenssberg said there was already a "fragile balance" in Cabinet that the prime minister would be wary of when naming Sir Michael's successor.
She added it was not just about a figurehead for the military, but with big issues like Brexit on the table, the appointment would be about "keeping the political peace."
On Tuesday, a spokesman for Sir Michael confirmed that he was once rebuked by a journalist, Julia Hartley-Brewer, for putting his hand on her knee during a dinner in 2002.
Ms Hartley-Brewer, a former political editor of the Sunday Express and regular political commentator, told BBC Radio 4's The World Tonight: "If he has gone because he touched my knee 15 years ago, that is genuinely the most absurd reason for anyone to have lost their job in the history of the universe, so I hope it is not because of that."
Labour MP Jess Phillips said recent allegations made against MPs were a cross-party issue, but said Sir Michael's resignation made her feel that action was being taken.
She added: "I am not interested in scalps, I am interested in cultural change, in parliament and in our political parties, to make it safer and a better environment for women."
'Code of conduct'
Following a range of recent allegations, including claims of a lack of support for those making complaints, Mrs May has written to party leaders calling for the "serious, swift, cross-party response this issue demands".
Labour, meanwhile, has launched an independent investigation into an activist's claim that she was discouraged by a party official from reporting an alleged rape at a party event in 2011.
Conservative MP Bernard Jenkin told BBC Radio 4's Today programme that there needed to be a new code of conduct in the House of Commons which "talks about the values we believe in and sets out in a coherent way the principles by which we expect MPs to conduct themselves."
He added: "There is no discussion in Parliament about how we support the positive values that we want public life to reflect."