Snow and ice bring UK travel disruption
Snow and ice are causing further disruption to road, rail and air travel in parts of the UK.
A Met Office amber warning of a possible risk to life is in place in south-west England, south-east and mid-Wales and the West Midlands all day.
Police say driving conditions are poor, with no safe routes across the Pennines and snow ploughs dispatched to the M62.
Lincolnshire Police said up to 35 vehicles were stuck overnight in snow drifts on the A158 near Edlington.
Officers spent seven hours digging and towing out all of the stranded vehicles on the stretch of road between Baumber and Horncastle.
Meanwhile, Bristol airport has closed until 12:00 GMT due to the weather.
Other airports, including Heathrow, Gatwick, Stansted and Luton, have urged passengers to check flight information before travelling due to possible disruption.
Great Western Railway, South Western Railway and Great Northern Rail have all reported delays and cancellations. Customers are encouraged to check National Rail Enquiries before leaving home.
Among the disruption caused by snow and ice:
There are no trains between Bedwyn and Newbury until 13:00 GMT, or between Exeter and Barnstaple until 12:00 GMT
South Western Railway warned freezing temperatures were causing numerous points failures, including at Eastleigh and Aldershot
Some rail replacement buses around Manchester are unable to run
Many roads have been blocked by snow and stranded vehicles, including the A38 northbound between Birmingham and Burton, the A3 southbound at Thursley, and the A331 Blackwater Valley Relief road
The Anglo-Welsh Cup final is one of a number of sporting events postponed
The Met Office's amber warning for parts of Wales and south-west England will remain in place until 21:00 GMT.
Parts of south-west England could are likely to see 5-10cm of snowfall with the possibility for 15-25cm of snow on higher ground, particularly in Dartmoor.
Yellow "be aware" warnings for snow and ice affect much of the England and Wales, central and south-west Scotland and parts of Northern Ireland until Sunday evening.
Temperatures in the Scottish Highlands could drop as low as -8C later in the day.
In Cumbria, one mountain rescue team had to retrieve 15 people stuck in a cafe near Kirkby Stephen while another team in Langdale assisted an ambulance that could not reach patients.
Richard Leonard, Highways England's head of road safety, said while gritters would be treating the roads "it is still important to drive to the conditions when snow is forecast".
Cheshire Police warned there is currently "no route to safely cross the Pennines into Cheshire". The A54, A537 Cat and Fiddle and B5470 are all closed or blocked by snow.
Bus company First South Yorkshire has been forced to cancel a number of services across the region due to conditions on the roads. Sheffield, in particular, is badly affected.
More than 100 flights to and from Heathrow were cancelled on Saturday but the airport was operating without "significant" disruption on Sunday.
"We've worked with our airlines to consolidate Sunday's flight schedule, moving passengers on to fewer flights," a spokesman said.
Gatwick said passengers should check the status of their flights and also allow extra time for their journey to the airport.
Sunday's City of Lincoln 10km run has been postponed after organisers deemed it "unsafe" due to poor weather. The Shrewsbury 10km run has also been called off, as have half marathons in Reading, Wigan and Wilmslow.
There will be no horse racing in Britain on Sunday as both Carlisle and Ffos Las were forced to abandon events due to the weather.
Football has also been affected with Derby's Championship match against Cardiff being postponed.
The surrounding areas of Pride Park have been left in an unsafe condition following heavy overnight snowfall.
BBC Look North's Sport Relief 'Big 50 Sofa Challenge' has been postponed due to heavy snow in West Yorkshire.
Presenters of the regional TV news programme were due to push the red Look North sofa 10 miles from Bradford to Haworth, but organisers called it off due to "treacherous" conditions.
Six Nations champions Ireland, meanwhile, have been forced to cancel their homecoming "due to heavy snowfall".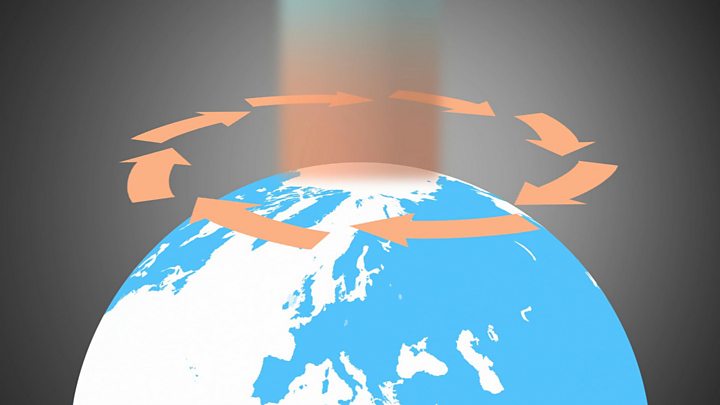 The wintry snap dubbed the "mini beast from the east" brought the heaviest snow showers on Saturday to north-east England and the North Midlands, as well as parts of southern England – including Hampshire, Sussex and Kent.
A cold spell nicknamed "the Beast from the East" saw much of the UK and Europe blanketed in snow at the start the month.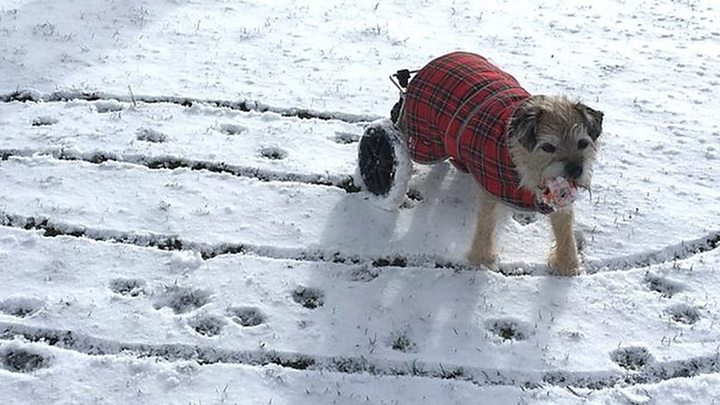 Is it snowing where you are? Email your story to haveyoursay@bbc.co.uk or send your pictures and video to yourpics@bbc.co.uk
You can also contact us in the following ways: