US storm to bring record-breaking low temperatures
North America's East Coast is shivering in a record-breaking freeze just a day after a deadly "bomb cyclone" dumped snow as far south as Florida.
In parts of US and Canada, temperatures are expected to fall below -20F (-29C), said the National Weather Service.
In Canada, high winds have knocked out power for tens of thousands of residents in Nova Scotia.
Giant waves caused by the storm saw freezing floodwaters inundate parts of the New England coast.
The extreme weather has so far been linked to up to 19 deaths in the US and two more in Canada, according to reports.
Deaths were recorded in North Carolina, Wisconsin, Kentucky and Texas as a result of traffic accidents and exposure to the bitter cold.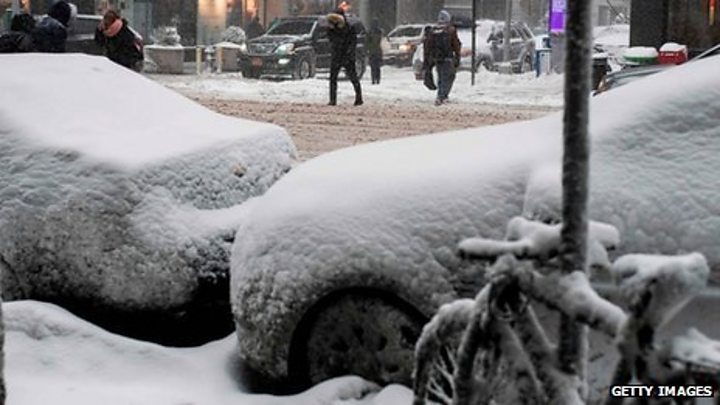 With the snowfall ending, temperatures are forecast to continue plummeting into the weekend as frigid air lingering over the North Pole prowls towards the US mid-Atlantic region.
The National Weather Service said on Friday: "An arctic outbreak will keep temperatures 20F to 30F degrees below average across the north-eastern US.
"This easily reaches the 20 to 30 degree below climatology range which supports a chance for many daily temperature records to be broken."
Experts say the so-called bomb cyclone storm drew moisture and strength from as far south as the Caribbean Sea.
More than 1,200 flights were cancelled on Friday, a day after 4,000 others were grounded.
Police in the US state of Indiana issued a joke warrant for the arrest of main character in the Disney movie Frozen, blaming her for the cold snap.
Queen Elsa is wanted for "maintaining a common nuisance", the Seymour police department said.
---
Mass power cuts in Canada
Atlantic and central Canada are being walloped by the winter storm.
The provinces of New Brunswick and Newfoundland and Labrador are both under winter storm and blizzard warnings.
On Friday morning, Nova Scotia Power said some 125,000 customers were still without power after 140km/h (87mph) wind gusts hit parts of the maritime province.
Outages have also been also reported in New Brunswick and Newfoundland.
Ontario and Quebec were both under extreme cold warnings.
Quebec is also bracing for heavy snowfall, strong winds and storm surges in parts of the province.
---
In Massachusetts, Boston received over 1ft (30cm) of snowfall.
The city harbour's tide gauge matched its record at 15.1ft – previously set during the great blizzard of 1978.
Flooding affected Boston's newly renovated seaport district and deluged a downtown subway station.
Mayor Marty Walsh blamed climate change.
"If anyone wants to question global warming, just see where the flood zones are," he said.
Utility companies in eastern North America are advising residents to leave their homes and seek shelter elsewhere if they experience problems heating their properties.
The storm has so far forced hundreds of schools and businesses to close in New York City, Philadelphia, Boston, the Carolinas, Maryland and Virginia.
Panicked New York City residents rushed to shops before the snow came, clearing shelves of milk, eggs, and kale, the New York Times reported.
The weather pattern has already brought snow to the US South as far down as Florida, where the cold snap has caused iguanas to lose their grip and fall from trees.